Children advocating for child rights friendly Panchayats
Alur village in coastal Karnataka is known for its stone quarries. The excavated sites are hazardous to children, women and cattle who can easily fall in. In January 2011 a local boy, Prakash, 12, died after falling into a quarry while taking breakfast to his mother. Rains had filled the quarry with water and Prakash drowned.
After a child died from falling into a quarry in 2011, the local children decided to take action to prevent any further accidents. Having received training in information management from CWC, local children decided to conduct a survey and mapping exercise to identify the most dangerous sites and accumulate evidence for their closure.
The children developed a survey format and questionnaire that was largely graphic so young children could also participate. They talked to adults and children in households, recording the routes taken to work and to perform errands, areas that children use to play, and areas described as hazardous and marking them on a map.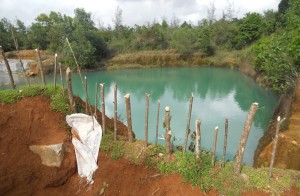 The children presented their findings at a special Makkala Grama Sabha (children's village meeting) in April, calling attention to Prakash's death and demonstrating where fences were required. Three months later, officials from the Taluk of Kundapura, the sub-district Alur is in, visited the village and held meetings with the owners of several quarries to demand fences be built or the quarries be filled in. Child representatives were invited to the meeting to impress on the owners the risk they faced.
Nevertheless, it would take another tragedy before the quarries were finally made safe. In 2012, twelve children drowned in open wells and tanks in nearby villages, prompting further concern about children's protection and safety. Along with CWC's field activists, children from across Kundapura Taluk made lists of dangerous zones in their villages. This was a detailed effort accomplished through mapping processes. Along with CWC, children also developed detailed 'child safety norms' for the protection of open wells, tanks, ponds, quarries, etc.
After their data collection, children collated their maps and prepared for a detailed presentation. They presented this information to the District Commissioner, who was not only impressed by the children's efforts, but also spurred into action because of it. Children suggested that the implementation of the child safety norms and fencing be done as a joint effort by community members in each village and by using locally available materials. Thanks to their advocacy efforts, fences have now been put up surrounding dangerous zones across Kundapura Taluk, including around the quarries of Alur Panchayat.
When you look into a child's eyes you expect to see hope, trust and innocence; but when you see these signs of childhood are replaced by betrayal, hunger, fear & suspicion, we need to take a serious stock of ourselves and the society we have created.

- Nandana Reddy | CWC

Related Posts

More posts: education