Children's unions
CWC believes that it is children, not adults, who know best what children need and want. Instead of merely 'helping' children, CWC works to empower children to organise themselves and identify, and solve, their problems.
Our work began with the formation of Bhima Sangha, a union of working children, in 1990, and expanded with the formation of the International Movement of Working Children in 1996 and the National Movement of Working Children in 1999. More recently, CWC has become active in facilitating school children's organisations to bring some of the benefits of self-organisation to schoolgoing children.
Bhima Sangha
"Bhima Sangha gives us strength. It gives me confidence."
– Nagaveni, a Bhima Sangha member from Bellary district
"At Bhima Sangha meetings I feel I can be free. I am at rest, I am at peace."
– Gangamma, a Bhima Sangha member from Bellary district
In 1990, CWC's field programme was four years old and much had been achieved to assist the working children of Karnataka: a night shelter, education provision and protection from police harassment. But children told us that they wanted to take control of their own struggle for rights and recognition. So, on April 30 1990, over 500 working children from across the State gathered in Bangalore's Gandhi Park and declared the formation of Bhima Sangha, a union for, by and of working children, named for a character in the Hindu epic the Mahabarata.
Bhima Sangha quickly established itself as a powerful advocate for working children. When in 1991, four child staff died in a fire at the Hotel Suruchi in Bangalore, Bhima Sangha established an Enquiry Committee to establish the cause of the fire and secure justice for their colleagues. The children interviewed hotel workers, neighbours and the police and made maps and took photographs of the scene, uncovering negligence on the part of the owners that led to the fire, as well as abuses of staff. After they made their findings public, the Hotel Suruchi's license was revoked and it closed down.
Over the ensuing years, Bhima Sangha has intervened effectively in a wide array of problems for its members and other working children. Like any workers' union, it often intervenes in matters relating to work, whether forcing a neighbour to apologise for beating a domestic worker or securing better safety conditions for workers in a cashew nut factory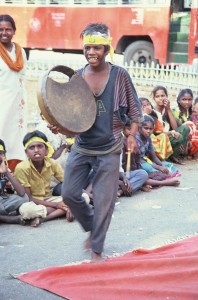 But children's needs are often ignored not just by employers, but by government as well. So Bhima Sangha quickly became active in addressing wider community issues. In 1993 in Basrur, members came to the defence of a colleague who had been sexually abused by her uncle, providing a vital non-judgmental support network and campaigning for an end to superstition-driven sexual abuse. In Alur Panchayat in 2002, Bhima Sangha members were instrumental in securing the setting up of a dairy to prevent children having to walk several kilometres each day to milk cows. In Bangalore, also in 2002, Bhima Sangha members secured a meeting with the Mayor to demand improvements in conditions in their slum areas, with immediate results, as well as participating in training the police in children's rights.
And Bhima Sangha members have been generous in sharing their experiences with other, non-working children. Bhima Sangha was instrumental in the setting up of the first Makkala Panchayats (children's councils) and Makkala Grama Sabhas (children's village meetings) as part of CWC's Toofan Programme.  Members have also helped CWC facilitate children to carry out a range of research projects.
Today, Bhima Sangha boasts over 12500 members and is recognised worldwide as a leading force within the international community of working children's organisations. Read a profile of Mahesh, a Bhima Sangha member from Bangalore.
International Movement of Working Children
"Unity is strength, so we needed to get together with other children who are in similar situations, to define our common objectives." – Antonio Infanda, a child worker from Guinea Bissau
In 1992, the International Working Group on Child Labour was established, providing a worldwide network of activists, scholars and NGOs working with working children. But adults and children alike quickly realised that here, too, it was important for working children to develop their own global network to identify common challenges and issues.
So, in 1996, facilitated by CWC, working children from across Africa, Asia and Latin America gathered at CWC's campus in Kundapur for the inaugural meeting of the International Movement of Working Children. Over three days of debate and deliberations, the children agreed ten guiding principles – dubbed the 'Kundapur principles' – which have informed the child labour debate since. Read the Kundapur Declaration.
The Movement scored an early victory in providing a voice for working children worldwide by successfully petitioning to attend the International Child Labour Conference held by the ILO in Amsterdam in 1997. Since then, the Movement has had two more formal conventions: in Berlin in 2004, where they were visited by a group of Italian MPs, and in Siena, Italy in 2006.
See a film by CWC about the International Movement of Working Children:
With the International Movement a reality, Bhima Sangha members had had the opportunity to meet and get to know members of two other major working children's unions in India, Hasiru Sangha and Ele Nakshatra. In 1999, they established the National Movement of Working Children to maintain these connections.
The National Movement has become a powerful force in children's issues at national and international level. Its members have twice prepared a 'Children's Report' to the UN's Committee on the Rights of the Child in Geneva, as an alternative to the Indian government's official report on its compliance with the Convention on the Rights of the Child. Members also participated in the UN General Assembly Special Session on Children in New York in 2002, and have contributed to a range of national and State consultations on legislation and Action Plans concerning children.
School children's Sanghas
In recent years,  CWC has become more heavily involved in helping to organise and empower schoolgoing children. In 2003, CWC began facilitating children to form schoolchildren's organisations. Thanks to our work facilitating children in the 56 Panchayats of Kundapur Taluk to participate in the national five-year planning process, schoolchildren across the area had the chance to meet Bhima Sangha and Makkala Panchayat members and understand the power of children's organisation, and the idea of schoolchildren's sanghas quickly spread. By the end of 2005, more than 140 schoolchildren's sanghas had been formed across Kundapur Taluk. They have now spread throughout Udupi district, providing schoolchildren a forum to discuss problems and identify solutions.
When you look into a child's eyes you expect to see hope, trust and innocence; but when you see these signs of childhood are replaced by betrayal, hunger, fear & suspicion, we need to take a serious stock of ourselves and the society we have created.

- Nandana Reddy | CWC

Related Posts

More posts: education