Migrant citizens
As a country of more than one billion people, India constitutes a giant "internal market" for labour. In the last 15 years, globalisation has resulted in both the expansion and contraction of different regional labour markets, with new jobs appearing in some areas through manufacturing, mechanised commercial farming, high wages and urbanisation. But in many rural areas, failing agriculture, factory closures and environmental degradation have led to unemployment and driven many people to look for work in cities. The result, particularly in the last decade, has been an immense increase in internal migration of unorganised, unskilled and semi-skilled labour throughout the country.
In Karnataka, for example, the northern regions, which are underdeveloped and suffer from land degradation and frequent drought, are a key source of migrant labour for towns such as Udupi and Bangalore. The difference in wages between the two regions is huge – 20 rupees a day in Northern Karnataka and about 130 rupees a day in the coastal town of Udupi. As long as severe regional economic imbalances exist, thousands of workers – including many children – will continue to leave the North in search of employment in the South and West of the State.
Unfortunately, India's governance has not adjusted itself for this new reality of internal migration. Provision of services is often carried out at local level, making it difficult for migrants to obtain their entitlements as citizens. Migrants struggle to obtain voter's ID cards, leaving them unable to vote. Many also lack ration cards enabling them to access groceries and other basic items at subsidised rates, and labour cards providing access to social security. Migrants are ignored by censuses and surveys and left out of consultations on policy.
Comprehensive government action is needed to address the needs of migrants, but the government has been vehemently denying the existence of such a group for a very long time. There is no clear data available about migrant labourers and very little by way of welfare or development policies relating to them.
The Interstate Migrant Workers Act 1979, which makes it mandatory to provide the same conditions to migrant labourers as to any other worker suffers from very poor implementation and is not even applicable to intra-state migrants. Although the government of India introduced the Unorganised Workers Social Security Bill in 2005, the parliament has not had the commitment to pursue it so far.
At Concerned for Working Children, we work with migrants in Bangalore and the towns of Udupi and Kundapura. Our primary focus is to struggle for the citizenship and livelihood rights of the migrants. We also work in the communities of Northern Karnataka to try to reduce the need for migration by addressing poverty and unemployment.
The Karnataka Migrant Worker's Union
CWC believes in empowering and enabling marginalised communities to organise and demand their rights. In 2007, we facilitated the formation of the Karnataka Migrant Worker's Union (KMWU), an alliance of more than 2000 migrant workers from across the state. The KMWU is the first organised movement of migrant workers in Karnataka. The launch was attended by A. G, Kodgi, chairperson of the Third State Finance Commission, who said: "Today opens a new chapter in the struggle of migrant families in Karnataka. Until now, the government has not faced any pressures from the migrant communities – from now on, things will be different."
Through the union, migrant workers have helped each other obtain ration cards, voter IDs and labour cards. They have campaigned for better housing and facilities, and called for better welfare support in rural communities to reduce the numbers of people forced to migrate in search of work.
In Udupi district, the union has successfully obtained housing sites for 120 households, benefiting about 1000 members, through their collective bargaining with the District Administration. In addition, water facilities and toilet facilities have also been put in place by the Government. It has also successfully prevented several evictions of migrant communities in Bangalore.
Several hundred families now have access to 'Ration cards' that enables them to access good grains and fuel at subsidised rates. The union also successfully protested against the sudden removal by the Government of ration and voter cards from 100 migrant families.
Read a news story about a recent meeting of the union.
Advocating for essential services
In addition to facilitating the Karnataka Migrant Workers' Union, CWC facilitates advocacy for provision of essential services to migrant communities. Working with Bhima Sangha, the union of working children we facilitate, CWC successfully negotiated the setting up of six temporary 'tent schools' in migrant communities in Udupi and Bangalore. Regular medical camps have also been established, with assistance from community volunteers and the government health system, to provide treatment for common ailments and referrals to doctors and hospitals for more serious conditions.
Bringing invisible people into light through surveys
Part of CWC's role with migrant communities has simply been to document their existence. With the government refusing to institute any attempt to keep track of migrants, in 2009 CWC carried out an extensive survey to assess the numbers and condition of migrant workers in Udupi district. Based on advocacy carried out using the results of that survey, we were able to secure improved accommodation for over 200 families. In Bangalore, CWC participated in surveys to document the existence of and rights violations against migrants in the city in collaboration with other NGOs and the city government.
Opposing the expansion of National Highway 17
Migrant citizens have been a key players in the opposition of the expansion of National Highway 17. The highway runs up the coast of Karnataka to Goa. The road is currently four-laned from Mangalore to Surathkal. It is proposed expand the stretch from Surathkal to Kundapura to four lanes.
Construction of these extra lanes would cause immense disruption to the people of Kundapura. The highway cuts through the heart of the town and is the primary entry point. The 25,000 citizens of Kundapura, as well as the 40,000 citizens from around the area who visit each day, will be severely disrupted by construction on the road. Farmers will be unable to sell their goods in the santhes (street markets). It will also adversely impact school children, sick people visiting the hospital, and differently abled people. It is proposed to instead construct a fly-over in Kundapura to enable the road to be expanded without destroying livelihoods in the town.
Migrant citizens, many of whom would likely work on the construction, have been key participants in the campaign against the expansion, of which CWC has been a lead organiser. The campaign has successfully called on the National Highway Authority of India to consult with Udupi District and concerned parties about the flyover option. Through the campaigns and advocacy, the NHAI has shelved the idea of a 4km embankment in the centre of Kundapura town, and replaced it instead with a 250 mts flyover. This is significant in that the voices of the most marginalised have prevented the loss of vast areas of commons – trees, road space – in the centre of a town.
Udupi Resolutions on migrants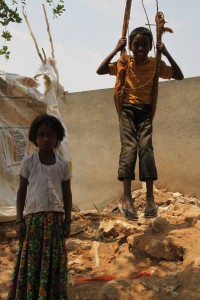 The Grama Panchayat Hakkottaya Andolana, a movement of Grama Panchayat members from across Karnataka facilitated by CWC, has been a key force in defending migrant workers. Its Udupi Resolutions of 2011 makes the following declaration:
"We express our concern at the plight of migrant children and their families who are deprived of their basic facilities such as housing, water, education, etc but most importantly the fact that they are deprived of their franchise and other attendant facilities and rights as they are not registered as the citizens of the local Panchayat even several years after migration. We will endeavour to make special efforts to have in-depth discussions with these groups and come up with a plan of action that will include them in the development process of the Panchayat."
"We recognise women, children, youth, Tribals, minorities, senior citizen, people with special needs, dalits and migrants as vulnerable groups. We, the elected representatives of Grama Panchayats, shall ensure a favourable environment for the self determination and informed and active participation of the all vulnerable groups in all meetings especially in Ward and Grama Sabhas. We also request other levels of Government to ensure the same."
The KMWU and other groups are lobbying for the acceptance of these resolutions with governments at local and state levels in cooperation with the Grama Panchayat Hakkottaya Andolana.
When you look into a child's eyes you expect to see hope, trust and innocence; but when you see these signs of childhood are replaced by betrayal, hunger, fear & suspicion, we need to take a serious stock of ourselves and the society we have created.

- Nandana Reddy | CWC

Related Posts

More posts: education