Namma Bhoomi
'Don't limit a child to your own learning, for she was born in another time.' – Rabindranath Tagore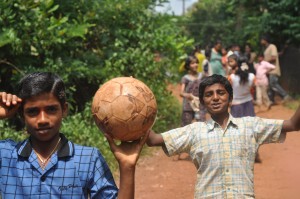 Namma Nalanda Vidyapeeta is housed in Namma Bhoomi (Our Earth) campus, near Kundapura town, Udupi District at the foothills of Western Ghats and on the banks of river Varahi. The campus is spread over 18 acres and is surrounded by greenery. Namma Bhoomi has a residential accommodation at 'Namma Halli', a safe and fun place for 200 children, in addition to residences for teachers and staff. The campus has a playground, computer lab, library and auditorium for school and public performances. A medical infirmary is on campus with a doctor and a nurse in residence.
Namma Bhoomi was designed by architects Jeeth and Natasha Iype, winners of the TIME magazine 'Good Earth Team' innovators award. They developed the design in consultation with children and locally available, eco-friendly materials.
Over the years the land that was originally barren has become a fertile and flourishing landscape. There is a diary on campus and fruits and vegetables are grown with the help of the children. Children feel ownership over the space and participate in all the activities of daily maintenance in partnership with adults, a first-hand way for children to engage with their natural environments.
In Namma Bhoomi, the traditional boundaries of caste, gender and religion are gently broken down and everyone live, learns and plays together. Festivals across all religions are celebrated and girls and boys are treated as equals. More importantly, it is an empowering space for children. Children elect their own council each year, a Makkala Panchayat, which plays a key role in the governance and management of the facility on decisions ranging from menu choice to rules governing discipline and children experience democratic functioning first-hand.
Alumni from Namma Bhoomi regard it has their home, and are frequent visitors to the campus. They also play a critical role in creating a support and sharing network for graduates.
Namma Bhoomi campus also serves as a training facility for our consultancy wing, Dhruva. A reference library is housed on campus, with a comprehensive collection of books, videos, CDs, periodicals and journals on the issue of child rights, participation and governance. Library services include access to catalogues, reference assistance, bibliographies and access to a photocopier, along with internet access.
When you look into a child's eyes you expect to see hope, trust and innocence; but when you see these signs of childhood are replaced by betrayal, hunger, fear & suspicion, we need to take a serious stock of ourselves and the society we have created.

- Nandana Reddy | CWC

Related Posts

More posts: education