Grama Panchayat Hakkottaya Andolana launches a new website
Posted on January 03, 2013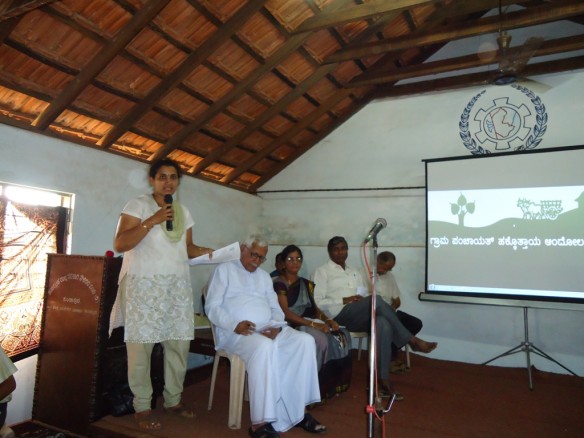 On behalf of Grama Panchayat Hakkottaya Andolana, The Concerned for Working Children, Secretariat of Grama Panchayat Hakkottaya Andolana, launched its website on the 19th of December, 2012. In the memory of Late Sri Abdul Nazir Saab, the inauguration event was held at NGO Hall, Kundapura. Sri A. G. Kodgi, President, Task force for Recommendations of the Third Finance Commission was the chief guest.
Guests present during the inauguration were:
Smt. Deepika Shetty, Kundapura Taluk Panchayat President
Sri H.K. Bhoomakkanavar, working President of Andolana State Committee
Sri S. Janardhan, Honourable President, Kundapura Taluk Andolana Okkoota,
Sri Uday Kumar Shetty, President, Kundapura Taluk Andolana Okkoota,
Smt. Annapoorana, Vice President, Andolana State Committee
This website includes significant information about Grama Panchayats of Karnataka. It is an effort to reach information to all Grama Panchayats and Grama Sabha Members to strengthen democratic decentralisation.
The website includes Grama Panchayat related information such as:
Integral information about Grama Panchayat Hakkottaya Andolana
Various articles on Panchayat Raj
Collection of Grama Panchayat related press clippings Panchayat Raj Act 1993
Report of 3rd Finance Commission of Karnataka
Karnataka Government Orders, circulars and notification about Panchayat Raj
Integral information about all Grama Panchayats of Karnataka
Grama Panchayat Hakkottaya Andolana requests all Grama Panchayat and Grama Sabha Members to make use of this website to strengthen Democratic Decentralisation. Valuable feedback will be appreciated to enhance the quality of the website.
The Grama Panchayat Hakkottaya Andolana is a movement of representatives of Grama Panchayat and Grama Sabhas of Karnataka State devoted to secure and safeguard the provisions of democratic decentralisation and devolution of power enshrined in the Constitution and to strengthen these institutions, especially at the grassroots level by empowering people's representatives to become effective instruments of development and social justice. Andolana works towards strengthening the Grama Panchayat and Grama Sabha Members by providing them appropriate information and training on time in supporting the development of Grama Panchayat.