Consultation held with children for understanding how to build inclusive play spaces
Posted on February 06, 2015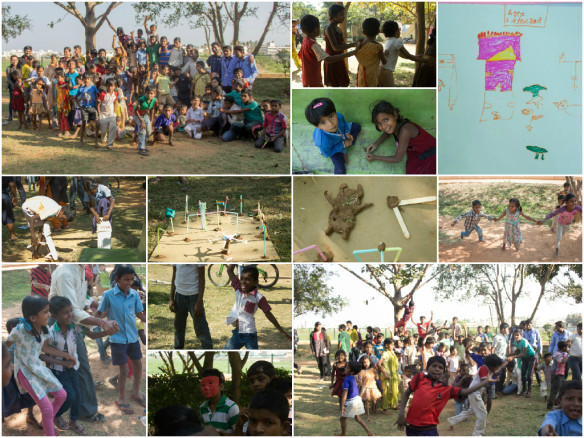 "I want a bench in the park", 5 year old Akhil stated emphatically during an event conducted by The Concerned for Working Children (CWC) in partnership with children in a park near its Bangalore office.  CWC realizes that children today lack access to safe spaces to play and indulge in creative activities. Hence, in an attempt to open public spaces to children, CWC partnered with children to understand what they felt was an ideal space for them to play.  This consultation with children was to have a deep understanding on how to create an inclusive play space – safe and invigorating for all age groups. 
The event held on Saturday, 31st January 2015 at Utkarsh Park was in collaboration with Kili Kili, an organization that aims at creating inclusive public play places socio-economically marginalized and differently abled children. Children from the migrant communities where CWC implements its urban community program also participated in the event. Children used drawings to depict issues they faced while accessing spaces to play. They then modeled their ideas of an ideal play space using clay. Issues like lack of a watchman, parks being made unsafe by people smoking drugs, no drinking water, etc were expressed by these children who most often were shooed away from parks owing to their poor backgrounds. Their insightful suggestions for improvement ranged from setting up special ramps for children with disability to access the park, having better lighting and proper fencing around the park, separate toilets for boys and girls, dustbins, etc.ow to create an inclusive play space – safe and invigorating for all age groups.
More than 50 children were part of this consultation process. Volunteers from Kili Kili and Goutham College enthusiastically helped the children put forth their ideas.
Equipped with the ideas put forth by the children, a team of architects will be engaged to design the park as an all-children accessible and safe space. This will then be taken to the BBMP Corporator of the area for implementation.