Inauguration of Namma Nalanda Vidyapeeta
Posted on October 16, 2012
Namma Nalanda Vidyapeeta was inaugurated on 8 October, 2012.
Over 500 children, their parents, community members, Panchayat representatives, officials and Ministers gathered together to celebrate the inauguration programme of 'Namma Nalanda Vidyapeeta' an educational academy in Kundapura. Namma Nalanda Vidyapeeta is the dream of The Concerned for Working Children, and today the school education programme was inaugarated, to expand the professional education programme that has been running since 1993. The graduation ceremony of the recent graduates from the professional training was held in conjunction with the inaugural ceremony.
'Education for democracy' is the core philosophy of Namma Nalanda Vidyapeeta. Nalanda provides a high quality and appropriate education that is recognised formally by the state government. The curriculum and pedagogy of Nalanda are embedded in the local cultural and social ethos and are aligned with Constitutional values and principles. Nalanda aims to provide an empowering education that is not only democratic, but also promotes, natures and enhances democracy and democratic principles.
Namma Nalanda Vidyapeeta removes existing distinctions between vocational, art and general education, between oral traditional practice and academic theory and between the formal and the non-formal systems of education. It is firmly rooted in the Indian system, and maintains special focus on the education of underprivileged children, girls and differently abled children, and children of migrant, adivasi, dalit and poor communities.
The programme opened with a procession by children, teachers, community members and others to Namma Nalanda Vidyapeeta accompanied by music and dance. Upon reaching the new campus, everyone participated in the inaugural activities, and representatives of children's groups, parents, community members, supporters and elected representatives placed handprints using colourful paint on the outer walls of the buildings. Trees were planted and clay tiles were laid. These activities were followed by detailed group discussions on different issues of education and the philosophy of Nalanda with children and adults, which were facilitated by resource persons – Dr. N. Rathna, Shri Lakshapathi, Shri Harindran V.K, Shri Vinay Deshpande, Shri Raghuveer Acharya and Shri Jayakumar S. Children used this opportunity to provide their feedback and suggestions on how to improve the training programme.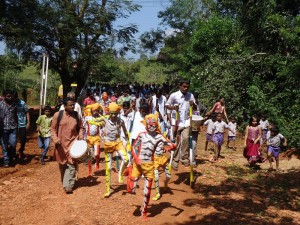 Dr. N. Rathna, former Director, All India Institute of Speech and Hearing, Mysore delivered the keynote address at the graduation programme. He spoke directly to the graduates in a very warm and engaging way. Dr. Rathna emphasised that graduation does not mean that learning is complete, on the other hand, learning is a lifelong journey. He called on all the graduates and existing students to constantly seek out opportunities to enhance their learning and growth. While sharing his best wishes to all children, he exhorted all the children in Nalanda to create a model of education and for other children across the state, country and the even the world.
Shri A.G. Kodgi, President of the Task Force for the implementation of Third State Finance Commission, spoke about the need for a new education model in the country. He praised Namma Nalanda Vidyapeeta for pioneering a much needed revolution in education and extended his best wishes.
Shri Kota Srinivas Poojari, Mujarai and Inland Ports Minister and District Minister Udupi, recognised that Namma Nalanda Vidyapeeta is a dream of people with a lot of courage and commitment, and praised the inauguration. He shared a lot of stories and experiences from his own life to illustrate the need for an education that prepares children for life. Shri Poojari said that education is not only for children of rich parents, but for every child who is interested in learning, and that we need institutions that provide such an education. He expressed his joy and pride in the model of education that Namma Nalanda Vidyapeeta is creating towards preparing children for reality and for life.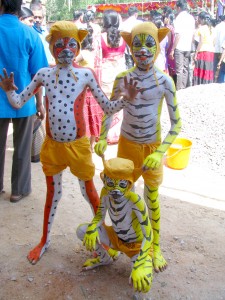 All the people who have played an instrumental role in making the dream of Namma Nalanda Vidyapeeta come true were honoured at the programme, including Shri Santosh Shetty, Hattiyangadi Gram Panchayat President, the architects, educationists, artists and supporters of Namma Nalanda Vidyapeeta. All the graduates from the different vocational training programmes – electrical engineering, computer technology, weaving, tailoring, housekeeping, carpentry etc. – were honoured with their graduation certificates.In memory of the 12 children who unfortunately lost their lives due to the flash floods and rains in the monsoon season a memorial stone was laid at Baachina Kodlu area in Hattiyangadi Panchayat, where four of these 12 children lost their lives in July 2012. The
Concerned for Working Children is working closely with the 56 Panchayats in Kundapura Taluk as well as with the District Commissioner to ensure that all open ponds and watering holes have safety boundaries and warning signs to ensure that no such incidents do not occur again.
The support from Panchayat and district governments is an important step in ensuring the protection rights of children in the District and has the support of the District Minister, Shri Kota Srinivas Poojari.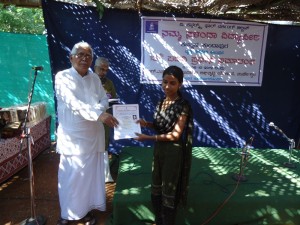 The entire programme was concluded with a cultural programme including folk songs and an entire Yakshagaana performance by children and staff of Namma Nalanda Vidyapeeta.
The dignitaries who attended the programme are:
Shri Kota Srinivas Poojari, Mujarai and Inland Ports and District Minister, Udupi
Shri K. Laxminarayana, MLA, Byndoor
Shri A.G. Kodgi, President, Task Force for the Implementation of 3rd State Finance Commission
Smt Indira Shetty, Member, Zilla Panchayat, Udupi
Shri Shankar Shetty President, Taluk Panchayat, Kundapura
Smt Susheela, Member, Taluk Panchayat, Kundapura,
Shri Santhosh Kumar Shetty, President, Hattiyangadi Grama Panchayat
Dr. M. T Reju, IAS, District Collector, Udupi District.
Shri M. V. Hegde, Director, R.N. Shetty Educational Trust, Murudeshwara
Shri Sadashiv Prabhu, Assistant Commissioner, Kundapura
Shri K. Mariswamy, Vice principal, R.N. Shetty Rural Polytechnic, Murudeshwara
Shri Ingvar Midthun, FORUT, Norway
Representatives of Namma Bhoomi Makkala Panchayat
Representatives of Namma Sabha