Makkala Toofan TV – Launch on October 21, 2012
Posted on October 16, 2012
The Concerned for Working Children is proud to announce the launch of Makkala Toofan TV Programme. Makkala Toofan will commence broadcast from October 21 (Sunday) at 12:00 Noon on DD Chandana channel. A new episode of the programme will be telecast every Sunday at the same time on DD Chandana.
Makkala Toofan aims to create an e-media platform for children and by children to enable their sustained participation in the community and district. It facilitates a process by which children are seen and accepted as producers, users and subjects of media. Makkala Toofan intends to strengthen the information building and information sharing capacities of children's groups, Makkala Panchayats and Makkala Grama Sabhas across the State of Karnataka. Through Makkala Toofan TV Programme, the Concerned for Working Children is offering a media alternative that is fun and educative and one that children shape themselves.
The design and development of the themes covered has involved children right from the conceptual stage. The programmes include news that is relevant to children, information regarding child rights, structures and systems, children's achievements; tasteful entertainment, cultural exposure, music, riddles etc.
Prior to each of the children's episodes, celebrities speak for a minute about what children's participation means to them. The celebrities who are already part of this are Mr. Chandrashekar Kambar, Mr. Suresh Heblikar, Mrs. Vasundara Das and Mr. S. G. Vasudev.
We believe this is a critical addition to the media products available for children, and one that is focused on learning and rights. Please do share and disseminate this information widely.
Trailers of Makkala Toofan can be watched below. We look forward to your support and feedback on the programme.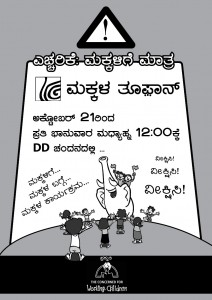 Below are some of the trailers for the show: