Child Labour Day, Bangalore, April 2014
Posted on March 30, 2014
27 April 2014
Bal Bhavan, Bangalore.
On the occasion of Child Labour Day
Working Children's Union (Bhima Sangha) challenge 'Raid and Rescue'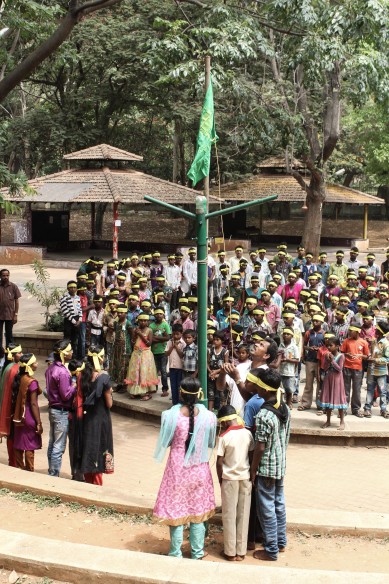 The Bhima Sangha, a union of working children, spoke on the eve of Child Labour Day (30 April 2014) at Bal Bhavan, Bangalore. In an hour long public presentation where opinion and decision makers such as candidates standing for elections, relevant department heads, bureaucrats etc had been invited, the children presented the 'Children's Manifesto' for the 2014 elections and then challenged the 'Raid and Rescue' method as a standard operating procedure, a 'one pill treats all' panacea to deal with all forms of child labour. Through the use of photographs, plays and narratives the children presented their experience of working and the issues they face. In particular, they demonstrated how 'raid and rescue' in itself dehumanises and criminalises them, violating their rights instead of upholding them. The children lay emphasis on the need to qualitatively consult them in order to understand and respond to their unique needs in a sensitive and nuanced manner.
 They categorised their experience of 'raid and rescue' into three broad sections: as working children involved in legally permitted non-hazardous or part-time work that contributes to their growth and development; children engaged in non-hazardous work in unfriendly conditions; children involved in hazardous work. The actual experience of the 'raid' was traumatic through all three situations.
Children were often dragged out of work spaces or tricked into a false understanding of being taken home and instead institutionalised within the Juvenile Justice system with no information and access to their family or guardians. In the case of children involved in non-hazardous or part-time work the raids were unlawful and arbitrary whereas in the case of the other two, the current process was highly faulty leading to increased trauma with no provisioning of long term solutions for the child in a difficult situation. This has meant that children have found it difficult then to contribute at home and the loss of household income often results in the child leaving school, being pushed into more dangerous work away from the public eye, malnourishment etc. The trauma and shame experienced due to inept handling by unskilled and untrained staff only adds to the alienation experienced by the children and their family.
Approximately 200 Bhima Sangha representatives attended the event of which 52 children had come from Udipi and Bellary district while others had come from various parts of Bangalore. Four children representing the Vidiyal collective in Tamil Nadu had also joined the event. The children were there as part of marking the 'Child Labour Day' and had spent the morning engaged in various activities such as art, theatre and learning through educational booths organised for them.
Case of Venkatesh, 'raided' on 23 April 2014
As the most recent example, a team of eight people from the labour department in the name of 'raid and rescue' raided a cream parlour in Kundapur and dragged away a child – Venkatesh (name changed). He had just finished his ninth standard and in an interview to a newspaper said that he was trying to help his mother who supports a family of five by herself. He was working in the summer holidays to pay his school dues. His aunt produced required documents relating to his schooling and asked for him to be released but the department refused. Since the child's mother, a daily wage worker in Udupi, could not respond at once, the department admitted the child into a juvenile justice system linked organisation from where he had to be released with the support of a child rights organisation. This whole process was carried out in violation of the Juvenile Justice Act which states that 'a child-friendly approach in the adjudication and disposition of matters in the best interest of children' should be adopted. Instead, the child's rights were violated and both, he and his family, were deeply traumatised by the experience.
Recommendations and alternatives
Decentralisation, of the complete cycle of policy creation, implementation, response to a violation to the third tier of governance and making them the nodal body for ensuring child labour free spaces, they felt was an important step to take in this direction. By decentralising not only are the numbers reduced to a manageable size but also in terms of response – the time involved is reduced drastically; the policy/schemes/responses are local, nuanced and contexualised, made flexible to the particular child. Most importantly, a decentralised approach ensures that children can participate in a qualitative manner and are able to get support which is unique to their life circumstances, needs and aspirations, in the short and the long term.