CHILDREN'S MANIFESTO for Lok Sabha Elections 2014
Posted on April 30, 2014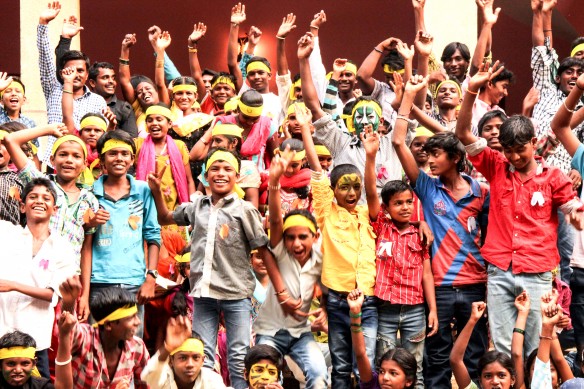 Background
The Working Children's Union, Bhima Sangha, has been a founding member of the National Movement of Working Children, the Asian Regional Movement of Working Children and also the International Movement of Working Children and has been functioning since the 1990s. The protagonism of Bhima Sangha has included its active engagement with decision makers at all levels, starting from the local governments to international policy making agencies such as the UN and the ILO. Over the years, representatives of all these groups, both individually and collectively, have raised their voices in order to realise their rights. The submission below is a result of their collective endeavor, which has been formulated and revised over the past couple of years. Close to a thousand children of Karnataka belonging to very vulnerable communities have contributed to this submission.
The Submission
We the children, citizens of India, urge the candidates of all parties to clearly demonstrate their commitment to children's rights and their accountability to children. We demand that the candidate make an honest effort to create an enabling environment for children in which the rights of all children of India are upheld by taking heed of our recommendations listed below:
Discrimination against children: No negative discrimination against us on the basis of caste, class, gender, age etc must be made in any situation.
Criminalisation of children: We work in difficult circumstances because we have to, not because we want to. Stop making children feel like criminals and remove the 'raid and rescue' method. Recognise that we have a right to live with dignity and build systems to address child labour in hazardous industries by listening and talking to us. Also, children who have been in conflict with law must not be treated as criminals and given appropriate support to access other possibilities.
Consultations and conversations: Mandatory qualitative consultations with us, our collectives, organisations/ adults working with children – on issues relating to us and our well-being at all tiers of governance should be put in place. Additionally, all the members of state legislatures, from all political parties, should meet us at least once in a year in their respective constituencies and invite representatives from our organisations/collectives to legislative assemblies so that they can listen to our opinions and suggestions directly.
Children's Gram Sabha: Karnataka has recognised the need for yearly children's gram sabhas where the panchayats listen to our issues. We want you to strengthen the existing process and make other states recognise this method. Also, a similar system in cities needs to be brought about to bring our voices to the government.
Children's Friend: A 'children's friend', designated and chosen through a collective process  by us, the children of the community, needs to be recognised and supported through training and resources in order to promote and uphold child rights. Additionally, sensitisation on our issues and how to work with us, needs to be incorporated at all levels of governance.
 Child-friendly Policies and Child Budgeting: Policies should consciously promote the incorporation of our concerns especially in terms of participation, provision and protection needs – in all relevant matters. Recognising specifically the need to incorporate at all levels the concerns of investing in our well-being, child budgeting, should be made mandatory.
Access to Basic Services: Basic services have to made available to all. These are fundamental in order to deal with problems such as malnutrition. Day-care centres, clean drinking water facilities, sanitary environment, bathroom facilities, subsidised food, basic shelter etc are of primary importance for ensuring basic physical well-being.
24 Hour Support and Information Services: Support services for children, especially vulnerable children, such as a safe space where they can come to share their problems and seek information on all issues relating to them and gain personal advise, emotional support and proper guidance; that is child-friendly and accessible through various mediums such as phone and mail – need to be ensured.
Swift and Strong Action on Child Rights Matters: Government bodies that work on behalf of upholding child rights need to be strengthened so they ensure swift justice in matters of violation. We especially ask for strict action against perpetrators of female foeticide, child marriage and child abuse. The government needs to take strong action to generate awareness on all three matters and prevent them.
Appropriate and Relevant Education: Ensure that the education provided is relevant and appropriate to our unique needs and requirements based on our age, abilities and circumstances.
Child-friendly Spaces: We must be recognised as citizens and all public spaces need to incorporate our special needs and be child-friendly. This is, with emphasis, especially for spaces which support children in need of special attention, care and protection.
In-depth Research: Research which incorporates our voices and experiences needs to be undertaken in order to understand more deeply the issues we face and the attached reasons so that appropriate programmes in consultation with us can be framed to address them.