Makkala Area Sabha held for the very first time in Bangalore
Posted on August 25, 2014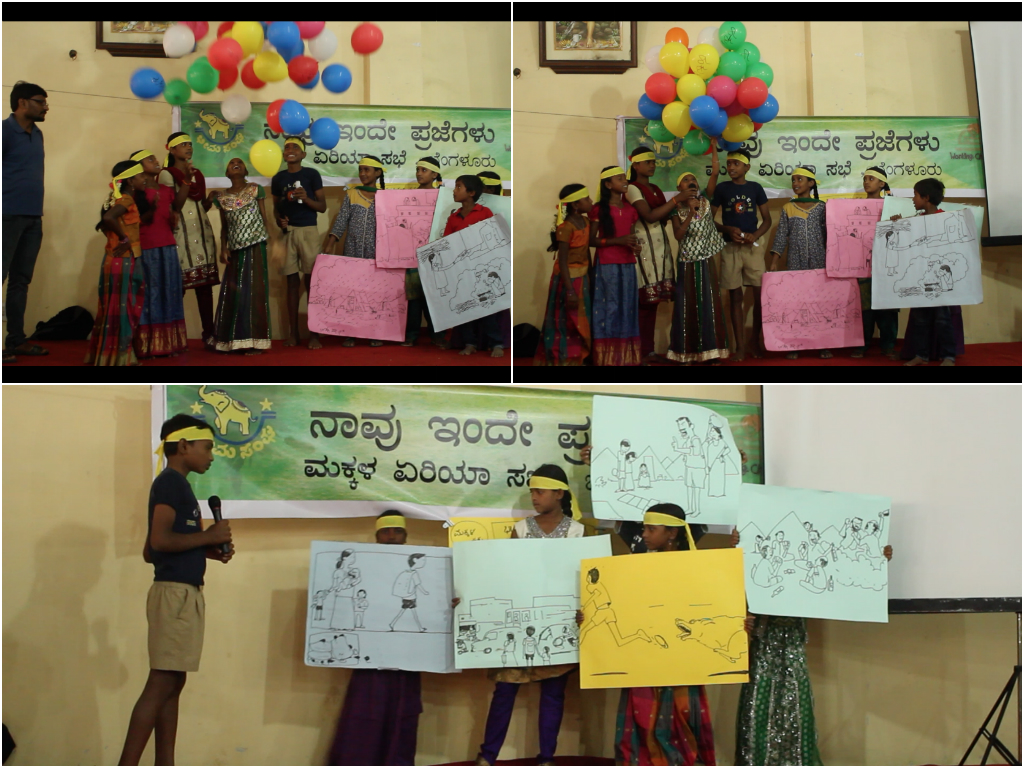 The Bhima Sangha (union of working children) in partnership with The Concerned for Working Children achieved a historic milestone on 22 August by holding the very first Makkala Area Sabha (Children's Area Meeting) in an urban setting at the Rama Temple Community Hall, HBR Layout in Bangalore. Child representatives of marginalized communities voiced their concerns to the HBR Layout Counsellor Mr. Govindaraju who participated in this meeting alongside representatives from the department of labour and health. The sabha was attended by 105 children from the area. This momentous meeting acted like a platform for children to participate in a dialogue with the Local Government.
Some of the grave issues identified by the children and presented in the meeting were lack ofwater supply, poor sanitation and bad health conditions leading to water and mosquito borne diseases , lack of bath and toilet spaces, need for identity papers, poor housing conditions, no access to fuel, poorly managed anganwadis and lack of play areas. Issues that liquefy their rights to protection range from harassment to kidnapping and lack of safe transit modes.
The issues were identified, documented and put-forth by the children themselves, after examining their environment and their experiences. They used drawings portraying their issues to share what they faced on a day-to-day basis. To further their point, they released balloons representing child rights, saying, "We, as children are told we have many rights, but the issues we face clearly shows that the rights are either inaccessible to us or are not existent. Like the balloons floating above us, we cannot access them." children stated at the meeting. "Then who are we? Are we scavengers? Are we liars and thieves? Are we criminals of tomorrow?  Are we unclean? Are we garbage to be thrown away? Are we not citizens of this country?  ", they asked.
The UN Convention on the Rights of the Child, ratified by India, sets out three broad sections of rights all children should enjoy: protection from threats, provision of basic services like education, and participation in decisions affecting them. Through this Area Sabha, children of the three communities of Kacharkanahalli representing 230 households and 75 children were enabled to present effectively the hardships they underwent.
We, The Concerned for Working Children (CWC), a pioneering not for profit organisation working since the last 35 years in the field of child rights, were instrumental in partnering with children in advocating the concept of Makkala Gram Sabhas. This implied the creation of a democratic space within panchayats to help children access protection and provisions through their participation. The first Makkala Gram Sabhas were set up in 2002 in 12 Panchayats in Udupi district. The idea was revolutionary and CWC facilitated the first Makkala Gram Sabha in the remote village of Keradi, which attracted more than 1000 children, who raised issues relating to basic facilities, personal problems, gender discrimination, disability and child labour to an audience including the adult Gram Panchayat members, government officials from the District.
Following state-level advocacy by CWC and other groups, in 2006 the Government of Karnataka issued a circular mandating all Gram Panchayats in the state to carry out Makkala Gram Sabhas. CWC contributed to the drafting of the circular, and offered training and support to Panchayats across the state to help them comply with the mandate. By the end of the year more than 21,000 children statewide had taken part in Makkala Gram Sabhas. The order has been renewed annually since then and Makkala Gram Sabhas are becoming a central part of rural governance in Karnataka.
We, along with Bhima Sangha, are advocating a similar democratic space within urban areas to help children access protection and provisions through their participation in such Makkala Area Sabha. The BBMP Mayor, BS Sathyanarayana extended his support in conducting such children's meetings across Bangalore. This is a path breaking initiative that is bound to have an invigorating effect on local democracy.