India's first ever Children's Ward Sabha takes place in Bangalore
Posted on February 23, 2012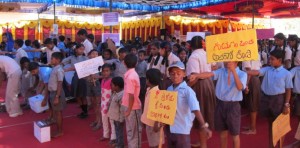 For the first time in the history of India, the metropolitan city of Bangalore bore witness to a successful 'Children's Ward Sabha' today. More than 500 children participated in the Children's Ward Sabha, which was conducted by the elected BBMP Corporator of Vijnana Nagar Ward (Ward no. 81), Smt. Geetha Vivekanand. The Ward Sabha gave children a chance to directly address their concerns about a range of issues to the relevant authorities.
The child participants were representatives from working children's organisations, children from migrant communities and children from 12 different government and private schools in the Ward. On the adult side, the corporator was joined by the local MLA, Nandish Reddy; BBMP Corporators from other Wards; representatives from BBMP Standing Committees; Mahdevapura Zone Joint Commissioner Shri Devaraj; Smt Nina Nayak, Chairperson of Karnataka State Protection of Child Rights Commission, and others.
Children inaugurated the programme by releasing balloons into the air, signifying freedom. The Ward Sabha was unlike any government event, with a unique stage arrangement – no chairs, no tables and no podium. Children and adults sat on the stage in a circle, and everyone was at the same level. This set the tone for an inclusive sharing by the children.
The child representatives had spent several weeks prior to the Ward Sabha identifying issues impacting their lives, and prioritising them for action. They raised  issues about cleanliness in their wards, the lack of footpaths for people to walk along the roads, lack of electricity and drinking water facilities in their ward, and the need for better public healthcare systems. They strongly demanded that the nearby Vibhutipura Lake be revived from its current degraded state, which has caused the ground water table to shrink drastically. They acknowledged that this as a sensitive issue, and any alternative for those families living along the lake banks should be reached in consultation with the communities themselves.
Children were also very aware of the issues they face in their schools – right from lack of toilets and playgrounds, lack of staff to maintain cleanliness, harassment of school girls as they walk to school and the need to construct more anganwadis and tent schools in the area.
They raised a strong and clear demand to their elected leaders and government officials to
address these issues.
In addition to raising issues, children also made suggestions on ways to solve them. The MLA Nandish Reddy; Deputy Mayor S. Harish; Ward 81 Corporator Smt Geetha Vivekand; BBMP Joint Commissioner Shri Devaraj and many other leaders responded to the children's issues. The children were assured more tent schools for migrants and angawadis would be constructed, that all schools in the area would get toilets, and that funds will be released for this. They informed thechildren that the Vijnana Nagar Ward is scheduled to receive water from the Cauvery river within the coming 10 months. The BBMP also made an assurance that all the roads that have been dug up for laying of drainage pipes will be tarred with immediate effect.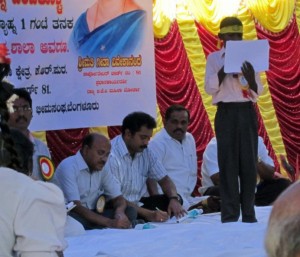 Children used the opportunity of this first-ever Children's Ward Sabha to make a demand for similar Ward Sabhas in all 198 Wards of Bangalore city. Elected leaders have given their assurance that they will look into this matter. The Deputy Mayor, S. Harish, while suggesting that such ward sabhas be held in all wards said that it is very important for all concerned government officials to be present during that – in order to respond to each and every problems raised by children and to give clear responses to them.
CWC assisted the BBMP to carry out the programme. CWC has a three decade long history of successfully facilitating children's participation and enabling their democratic citizenship. The organisation was the first in the country to facilitate Children's Grama Sabhas at the Grama Panchayat level in Kundapura Taluk in Udupi District in 2002. In 2006, Karnataka passed a circular mandating annual Children's Grama Sabhas throughout the State. The Children's Ward Sabha in Vijnana Nagar Ward was seen as pilot to establish a similar model for children's participation in urban settings.
Though the Ward Sabha was a success, CWC nevertheless learned much from the experience. The primary lessons included: the need to ensure marginalised children's participation in large numbers; the need to ensure that adult duty bearers respond specifically to issues raised by children; and the need to carry out in-depth preparatory discussions with children on issues such as privatisation of basic services, right to land and livelihoods, so that they are able to raise their issues a clearer understanding of the implications of these on the lives of all children.